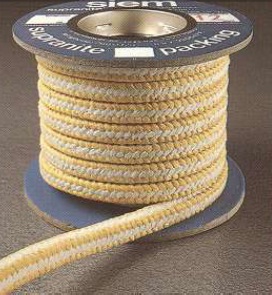 SUPRANITE PACKING 601 comes from a diagonal weave with a high density of silicate bristles and synthetic threads with high mechanical strength. Very clean quality impregnated with a chemically inert lubricant. Dispersion of P.T.F.E at the surface to facilitate the running of the stuffing box.
Applications
SUPRANITE PACKING 601 is used in the presence of acids, solvents, hydrocarbons, sewage etc.
Do not use with oxygen. Excellent coefficient of friction and excellent thermal conductivity.
Technical characteristics
Max temperature: 300 ° C
Max pressure: 250 bar
pH: 2 to 14
Max speed: 20 m / s.
Industries concerned
Conventional and nuclear power plants. Stationery, cardboard boxes. Food industries. Dairies, sweets, hot juice pumps, milk pumps. Iron and steel industry, chemical industries. Petrochemicals.