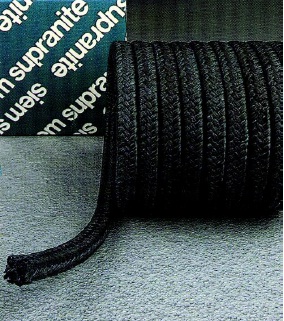 Construction Composition
Filling composed exclusively of fine filaments, graphite with High Specific Module and high mechanical characteristics, coated with a fine
P.T.F.E film for easy placement and break-in.
SUPRANITE PACKING 545 has high chemical resistance, stability and thermal conductivity with very good resistance to pressure at high speeds, and to significant friction.
Technical characteristics
Max temperature : 650 ° C and 3000 ° C
Static and inert medium
Max pressure : 100 bar
pH : 1 to 14
Max speed : 35 m / s.