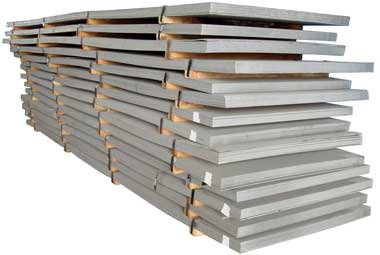 We offer a stainless steel whose standards meet the most demanding companies on the Algerian market. We supply with our plates the certificates according to ASTM standards. We store for you in Algeria in the best conditions of traceability these products
Standardization AISI 316L DIN 1.4404 AFNOR X2 Cr Ni Mo 17 12 2 2. Characteristics Austenitic stainless steel, non-magnetic, highly resistant to corrosion, the starting powder, atomized with gas, has a maximum particle size of 22 m. This steel has a homogeneous microstructure at its core at the surface to obtain surface conditions and quality machining. This steel is suitable for galvanic treatments as well as chemical and physical deposits
Composition% C (1)% Mn (2)% P (2)% S (1)% Si (2)% Cr (2)% Ni (2)% Mo (2)% N (2)% O (2)% Fe <0.03 <2 <0.01 <0.005 <1 16-19 9-13 1.5-3 <0.003 <0.002 Compl.
INOX 316L
PRESENTATION OF 316L INOX
316L stainless steel is austenitic stainless steel. Also called 1.4404, it is stainless. It is a stainless steel also marine. It contains molybdenum, which makes it highly resistant to corrosion (especially chlorine and seawater).
It is a stainless steel grade used mainly in chemistry, the 316L stainless steel can also be used inside and outside even at the seaside, but as the 304 stainless steel should not be used in an atmosphere polluted.
Presentation of standards for stainless steel sheets:
European Standard – EN10028-7: 1.4404
American Standard – ASTMA240 – ASME SA240: 316L
LEARN MORE ABOUT 316L STAINLESS
316L is an austenitic stainless steel. Like other stainless steels, it is composed of at least 15% of chromium and at least 8% of nickel. Its specificity is to contain molybdenum which increases its resistance to corrosion. 316L stainless steel is non-magnetic, it can be cold-worked and machinable.
Thickness available in Algeria (from 0.6 mm up to 10mm)
Technical sheet